I was at Mint the other day, and noticed they have are selling a few items, such as limes, chillies and my favourite Thai curry paste, the wonderfully named "
cock brand
" :D I love this paste because it is actually a lovely thick paste, full of tang and spice, not an oiled down watery sauce.
Another bonus about this brand is that it doesn't include shrimp paste, and even though this is supposed to be an essential ingredient in the curry pastes, the taste is still just as intense and powerful, and it's suitable to make a vegetarian curry with also! WIN! You can taste the fresh herbs and spices that go into this. It's so intensely lovely! Quite spicy, so if someone isn't a chilli fan, probably avoid the red, and definitely avoid the green. And add a little extra fish sauce to make up for the lack of shrimp paste.
This recipe is based on the instructions on the tub. I have added my own little embellishments, but have tried to keep it as authentic as possible.
Incidentally, I also found it (along with many, MANY Asian foods and things that i've been searching for) for
half the price
at Asia Supermarket in Gzira, and if you're overseas, any Asian supermarket should have it!
Incidentally, this is another one of those dishes I make for friends, and unfortuantely keep on forgetting to take pics of it until it's been devoured. Until then, I've stolen a pic off the internet to show you what it looks like: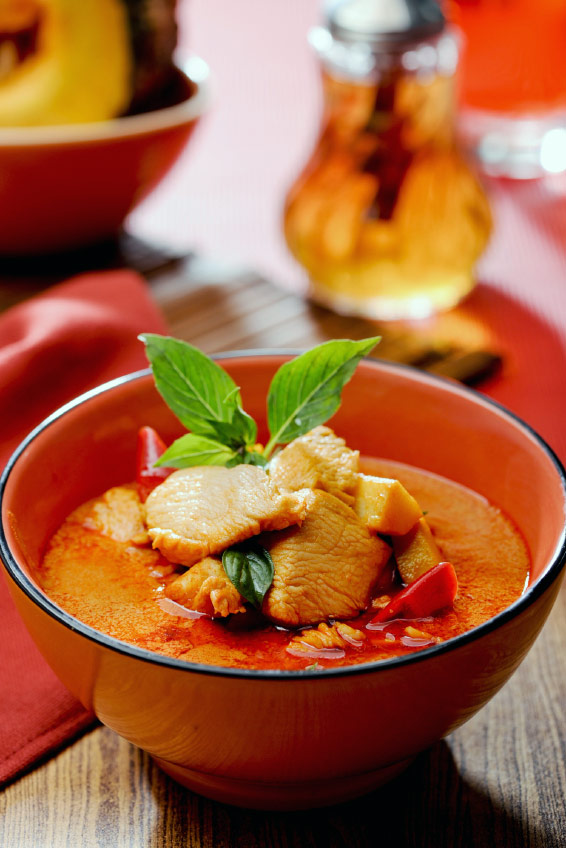 From http://www.templeofthai.com/recipes/red_curry.php (note how the oil sits on top!)
Curry Ingredients
a good couple of heaped tablespoons of curry paste
1 tin (around 400mls) coconut cream (Avoid blue dragon at all costs!)
700g boneless chicken thighs, each one cut into 4-6 bits (the perfect bite size piece)
a couple of cloves of garlic, grated
an inch or so of fresh ginger, grated
Some lemon grass, either smashed and left whole, or a heaped teaspoon of the jar stuff.
1 eggplant, peeled and diced into 1cm cubes
Another vegetable, I like to use broccoli (especially with green curry) or red capsicum (especially with red curry). But really, you can throw in whatever veggies you have lying around (red curry also works incredibly well as a vegetarian dish with butternut squash being the main ingredient)
A couple of tablespoons of fish sauce
one lime
Small amount of kaffir lime leaves (if available, if not, just use some extra lime) and/or handful of fresh basil leaves
Palm sugar (Demerera if not available)
Roasted peanuts (pref unsalted, but it won't do much harm if they are salted)
Coconut rice
2 cups jasmine rice
1.5 cups coconut milk
1/2-3/4 cups water.
pinch of salt
Curry:
Heat a medium wok (with lid, if you don't have one, a deep frypan will do, or even a large saucepan), and fry the garlic, ginger and lemon grass for a few seconds in a tiny amount of oil. Add the coconut cream and curry paste, and stir until the paste is evenly incorporated.
Add the chicken pieces, and stir, bring to a boil then turn to the lowest heat. Simmer for a couple of minutes, and then add the diced eggplant. Add the palm sugar, and a couple of tablespoons of fish sauce.
Cover and let simmer for about 10 minutes. Don't worrry if it looks a little dry at this point, the veggies in the next step will release water :)
Add the broccoli (or capsicum) and let simmer until the vegetables are tender. If you're using veggies that take longer to cook (like zucchini or pumpkin, add them in the previous step with the eggplant).
Once these veggies are tender, the eggplant should be compeltely dissolved, and the sauce shoudl be deliciously thick. Eggplant works wonders like this, and is the only reason i peel it for this recipe. There is no need to do the soaking in salt water bit for this dish, as the bitterness will be nowhere!
It normally takes me about 30 minutes from adding chicken to the curry being ready. This is another bonus of Thai curries, as Indian curries take SO much longer to simmer! Using thighs also helps with really tender meat :)
The most important thing is that you know (as with all curries) that it's done when the oil separates and floats up to the top. it is not ready until it does this. See the picture for what i mean. If you make it the day before serving, you can also remove the fat from the surface :)
Just before serving, add a good squeeze of lime, add some kaffir lime leaves (don't worry if you don't' have) and some salt to taste.
Coconut Rice
My favourite rice accompaniment to Thai curries!It's sticky, sweet and goes perfectly with any thai dish :)
This dish is painfully simple.
Simply place all the ingredients in a pan, bring to the boil, then cover and simmer until all the liquid is absorbed.
Serve the curry with the coconut rice, extra sugar for sprinkling (Thais like their curries hot and sweet), crushed peanuts (in the same way as we would use cheese on pasta) and some basil (although i only tend to use basil when i have it lying around).
ENJOY!!!